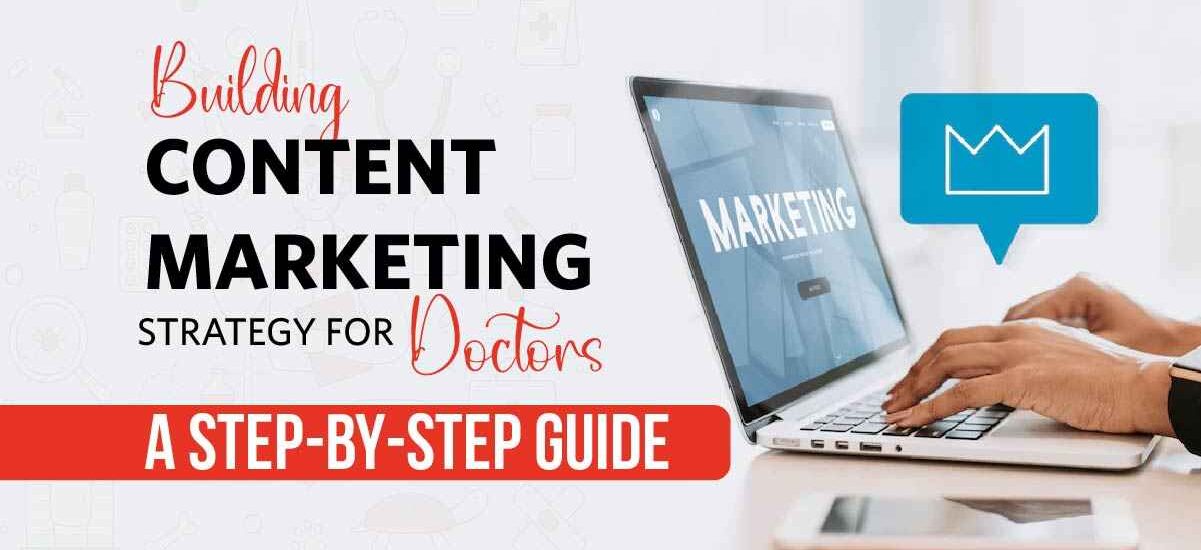 Building content marketing strategy for doctors: A step-by-step guide
Content marketing strategy for doctors: Don't know how to begin? Here are some proven tips that will help you get a head start.
Content marketing is an essential part of any good digital marketing strategy these days. Over the years, with the emergence of healthcare marketing trends, building a content marketing strategy for doctors has become even more essential. When done correctly, content can help establish trust and credibility among your patients. It can also help give your online reputation a boost and increase your overall digital presence. Content helps build relationships and create an engaging conversation between you and your audience.
In today's digital age, if someone needs health-related information, the first thing they do is go online to look for answers. That is why healthcare content marketing is so important. By crafting accurate strategies, you will be able to provide useful information to your audience, drive more traffic to your website, and eventually boost your revenue.
But first, let's understand what healthcare content marketing is?
Healthcare content marketing is a strategic approach focused on developing various forms of content to help educate and reach new patients and ultimately drive profitable customer action. These can include blogs, social media posts, videos, infographics and more. Content marketing helps hospitals and healthcare providers reach and educate their potential patients through their online content.
Today's patients are consistently engaging and consuming content from medical practitioners in all different formats. And if used effectively, content marketing can be one of the most powerful and effective tools in a healthcare marketing strategy. Content is the heart of marketing and it's time that doctors leverage it as much as they can.
Okay, now that you have decided to leverage content marketing. Are you wondering what kind of content you should create for your online audience as a healthcare professional? Well, there are no right answers for this. However, there are certain things that works. With so much demand for healthcare-related content, there's a lot that you can explore and cover. To help you out a little, we have also listed below a few tips to consider when you start crafting a content strategy for your practice.
Create content that's relevant and shareable
Give your two cents on industry news
Don't forget the significance of video
Guest blog to boost your reach
Don't make it too complicated
Craft informational content instead of simply promoting your practice
Consider hiring a professional
Importance of healthcare content marketing strategy:
Having a content marketing strategy in place helps establish four important points:
Brand awareness
Organic search goals
Patient education
Now that you know what content marketing is and also its importance for doctors, let's dive into some actionable tips:
1. Outline your desired outcome
Before you invest in content marketing, you must have a clear understanding of your desired outcome. What is it that you are hoping to accomplish with your content marketing initiatives? When you have a clear goal in mind, it's easier to measure your results as well as the path you took to get there. How? Because you would want to look back and see if your marketing efforts have yielded the results you want. You will get useful insights that can help you in the future. A little tip–don't expect to gain patients overnight. That's not how it works. Instead, you need to put in a little effort daily so that you build a strong patient base in the long term.
2. Define your audience
To churn out content that serves your key demographic, you need to segment and identify your target audience. Whom do you want to talk to and who is it that you want to attract to your practice? The more specifically you define your audience, the more the chance of getting a positive response.
3. Create a roadmap
Based on your healthcare content marketing goals and target audience, you can begin building a content roadmap. A tailored roadmap will have details of the focus areas, the content your audience would want to see, and the right channels for its distribution.
Are you a doctor who is still unsure about digital marketing? Click here to check out this blog on some common healthcare marketing myths as we debunk them. This will hopefully help clear some of your doubts 🙂
4. Content creation process
Creating a content creation process helps to organize and clearly define the roles and responsibilities of everyone involved. Don't forget to craft a content calendar as it will help you plan things weeks or even months in advance. By clearly mapping out the steps, you will be able to manage and carve out the kind of content that you desire.
5. Publish and reconstruct
Making as much content as possible is not the main goal rather doing it consistently is and so it's advisable that you repurpose and syndicate wherever possible.
6. Manage and measure
You would think once you publish your content you are done, right? Well wrong. It's extremely crucial that you track the performance and make a report. Analyzing your content's performance is important for measuring your success, addressing any problems in your current strategy and optimizing your content accordingly.
We can help
Revamp your healthcare content strategy by keeping in mind these simple yet highly effective points. When you create meaningful content, you not only gain the trust of your existing patients but also others who might be looking for a healthcare provider. When you educate people and attracts them, you get valuable insights, and your readers share your content. As you keep making content, you build credibility and start establishing yourself as a credible source and potentially an industry leader. This in turn, builds your personal brand and online reputation.
If you are a doctor looking to enter into the digital world but don't have the time, resources or focus to do all this alone please feel free to contact us. We have worked with many doctors with content marketing services. Let's have a chat soon!