6 Common Myths You Need to Stop Believing About Doctors' Digital Marketing
More and more doctors are turning to digital marketing to promote their practice and reach out to a wider audience. Yet, many healthcare professionals are held back by misconceptions. Take a moment to go over these common doctors' digital marketing myths as we debunk them. Let's get started, shall we?
In today's technology-driven world, it's nearly impossible to not use online platforms and leverage them to benefit your business. Today, most companies are promoting their services or products via online mediums as it has proven to be quite effective. When most of your target audience is online, it becomes essential that you connect with them on these platforms. In the recent past, the world of digital marketing has blossomed all around the globe. Now, big brands as well as medium and small enterprises are choosing to go digital to advertise their products or services. The digital wave has impacted most sectors and the healthcare industry is no different.
Doctors and other healthcare professionals are slowly but surely evolving their approach to marketing. And they need to if they want to stand out in this fierce, competitive industry. As patients are becoming more and more digitally savvy, doctors of today need to level up their online marketing game.
The landscape of healthcare marketing is ever evolving and so it is nearly impossible to keep track of all the changes and trends happening in the sector. That is why hiring experts who can help you develop an effective omnichannel strategy is essential. To reach your consumers at the right time, personalization and channel placement are extremely important.
Today, more and more doctors are turning to digital marketing to promote their practice. Yet, some healthcare professionals are holding themselves back because of these misconceptions they believe in. That is why we have crafted this article for you that may be able to help you out a bit. Now let us walk you through a selected few doctors' digital marketing myths as we debunk them. Scroll down to check them out and hopefully by the time you reach the end, we will have you convinced!
Myth 01: Having an engaging website is all you need
Having just a website is not enough for you as a doctor. In today's competitive environment, you need to have it optimized for search and user experience. In addition to local SEO and search engine rankings, a digital doctor must have a presence on social media platforms as well. There are various aspects of digital marketing and to grow, you would need to leverage as many of them as possible.
Remember, digital marketing only works when you promote your services on the right PLATFORMS and to the right PEOPLE.
Looking to build a website? Don't miss out our blog on must-have section for healthcare websites. Read here.
Myth 02: Digital marketing is for short-term benefits
A Well-rounded, data-driven digital marketing strategy can help you achieve both short-term as well as long-term goals for your practice. While most digital marketing strategies will give you results immediately, other forms such as content creation using the inbound marketing approach will help your practice grow in the long run. You should not invest in digital marketing for short-term benefits, instead having it for long-term can help establish you in the virtual world.
Myth 03: Doctors don't need a brand
A huge part of digital marketing is personal branding which involves the way you present yourself on online platforms. Your online image is critical as it affects the way your potential patients see you. That is why creating and maintaining a brand is extremely important for the doctors of today.
Myth 04: A good reputation is enough to drive potential patients
The reputation of a doctor is one of their most important assets, in online as well as offline world. Patient testimonials and reviews both play a key role in convincing and driving potential patients to you. However, reputation alone doesn't guarantee that you will reach new people. Reputation management and word-of-mouth combined with credible market positioning will help you drive people. It's also important to ensure that your digital reputation is keeping in line with your reputation in the local healthcare landscape.
If you are a doctor, then be sure to check these blogs made exclusively for you:
Myth 05: Medical marketing should only be educational
Don't be mistaken it's actually good to have a scientific and factual content style. However, ever so often it is important to personalise the kind of content that you put out online. In order to connect with the patients, it's important to find the perfect balance between information, creativity and personalisation. The more you add a personal touch to your content, the more it will relate to your audience and connect with them. One way to personalise your content is to keep the core mission of a piece educational but add personal styles wherever possible. But remember not to force it. The idea is to keep is real, authentic and relevant.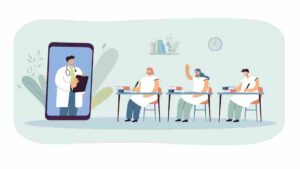 Myth 06: You can't measure the results of digital marketing
When compared to traditional channels, digital marketing is much more measurable. You just need to have the right tracking tools and setup so that you can precisely measure the outcomes. For example, if you want to track your lead-generating campaign, you should put tracking in place to measure where all your leads come from.
Conclusion
So, those were some of the most common doctors' digital marketing myths that are more or less believed by many people. We hope we helped debunk some of them for you. If you are still confused, then let our experts help you out!
Looking to accelerate revenue and reach higher goals for your medical practice? Then, forget all about these misconceptions and grow your practice with Brand Medix. We offer data-driven digital marketing strategies tailored made to suit your unique needs.