How Do Doctors Become Healthcare Thought Leaders?
In today's digital era, having a budgeted healthcare marketing plan is essential for medical practitioners. The right marketing strategies can help doctors reach prospective patients and retain current ones. One of the most effective ways for doctors to market their practice is by becoming healthcare thought leaders in their respective niches. How, you say? Check out some effective ways you can do that effortlessly. Scroll down!
The healthcare industry is fast-paced, vast and ever-changing. With this sector being composed of a wide expanse of subsections, it has become extremely important for doctors and other medical professionals to stay on top of the latest trends and know what's going on in the industry. In the last few years, the digital shift has completely transformed the medical sector with more and more people availing healthcare services online.
That is why doctors of today are using effective digital marketing strategies to promote their practice to a larger, wider audience. More and more healthcare professionals are jumping on this bandwagon and stepping into the world of the internet. And when your competitors are creating content left, right and centre, starting your digital game can feel a bit intimidating and rightly so! However, becoming a thought leader is not as daunting as it may look from the outside.
First, let us walk you through what thought leadership is and understand what it means particularly for the healthcare sector.
Understanding Healthcare Thought Leaders:
Thought leadership is when an individual or organization is considered an authority within their specialization or niche industry. A thought leader is someone with considerable experience, who is known for their expertise and is trusted by others in the industry. Thought leadership is an important aspect of healthcare marketing and is required in several areas in the field.
A thought leader is someone who has a massive experience in healthcare, with an incredible reputation and years of credibility and skills backing them up. Being a thought leader not only builds your credibility but is also a great way to reach more patients.
Today, we have compiled a few tips which can help doctors establish themselves as effective thought leaders in the healthcare community.
1. Build credibility and trust
Being a thought leader in the healthcare sector requires lots of experience, time and effort. For patients to trust a doctor, they will have to let them know that they are available and that their services might be useful to them. Additionally, doctors need to ensure they use marketing tools like local SEO so that the right patients can find them online. The more people see a doctor's presence in the online space, the more they will begin considering them an expert in the field and that will ultimately lead them to build credibility and trust.

Are you a doctor looking to boost your online presence? You must start your journey on YouTube to reach a newer, wider audience. Check out this blog for more details- YouTube: Best video marketing platform to get more patients – Brand Medix
2. Make quality content
To position yourself as a thought leader, you will need to produce innovative and relevant content. Make sure whatever you put online encourages conversations among your audience about the latest health topics. Make sure to put your ideas or opinions in whatever you put out, so people know and understand your perspective on the whole matter. At last, always remember to back up your ideas with facts and cite sources wherever necessary.
3. Add value
Imparting your expertise to topics that matter is one of the most important roles you can play as a thought leader in the healthcare industry. Always try to make content around trending topics related to your niche because this will make sure your audience is getting exactly what they want from you. Ensure that you are adding some value to your audience's lives so that you and your brand are both seen in a good light.
4. Build relationships
When you start building your authority in the online community, you will have many chances to collaborate with other influencers working in the healthcare sector. Building connections and leveraging them will not only help you get introduced to a new section of the audience but will also help promote your brand and drive potential patients to you.
Need more information on doctors' digital marketing? Read:
5. Be regular
Being consistent with your online content is one of the most effective ways of getting noticed and establishing yourself as a thought leader in the community. The more frequently you post, the more people will see your brand and the more they will remember you.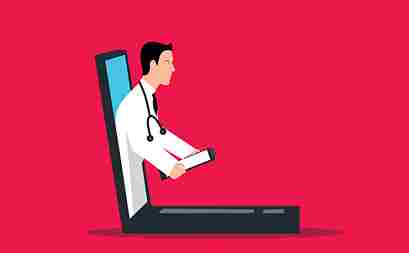 Becoming a thought leader takes time. It isn't going to just happen in a couple of days or months even. It can take years of training, learning, experience and expertise to be able to reach that level.
As a thought leader, you can attract many business benefits to yourself as it helps to aid the marketing of your practice. Once you have established yourself as a thought leader, it gets easier to build a relationship of trust and credibility with your patients. Thought leaders can be trusted to show excellent leadership in the health sector and direct other people on the right path.
Being a thought leader in the healthcare sector is a great way to gain a reputation and build credibility among patients. However, positioning yourself in this light will take some time and effort so don't fret if you don't see the expected result right away. Be patient especially if you are just starting. Once you start your online journey, it is going to take some time, but you are going to see the results eventually.

Looking to become a healthcare thought leader? Brand Medix is here to help you. Connect now and we'll get you started!