A Guide to Multichannel Healthcare Marketing in India
Multichannel Healthcare Marketing in 2023: Want to stay ahead of your competitors in the healthcare industry? Start leveraging a multiple-channel approach to market your practice in the online world.
There was a time when products and services came to the attention of the audience only through pamphlets and newspaper ads. However, today the story is completely different. Technology has changed the way businesses operate. The introduction of advancements in technology has provided countless platforms for businesses, companies, and healthcare organisations to interact with their customers and target audiences.
Today, people access more than four digital platforms in a day for personal and professional work. For example, social apps such as Instagram, Facebook, and Snapchat help people connect in the online world. Similarly, search engines such as Google are used for research purposes, and other apps like Amazon, Myntra and Flipkart are used for purchasing goods and products.
Before we go on about multi-channel marketing, let us first stand with the basics.
What is healthcare marketing?
Healthcare marketing includes strategies to promote the practices of doctors, healthcare brands, and hospital services to medical consumers. It eases the process of healthcare professionals building trust with their patients and helps to attract and gain new patients.
What multichannel marketing means in the healthcare industry?
Multichannel healthcare marketing includes both online and offline channels of communication for doctors and hospitals to promote their practice among existing as well as potential patients. This marketing approach allows you to use a set of marketing channels that are appropriate for your ideal audience.
There are many options available for promoting your practice to patients, but picking the right set of tools will help boost your online presence and reach the maximum number of patients. For effective multichannel marketing in the healthcare industry, it is very important to design a marketing strategy with suitable tools.
With the use of multiple channels, your target audience can see you more often and will be much more aware of your practice. This also helps in converting your target audience into patients.
Have a look at some of the benefits of using multichannel marketing in the healthcare industry.
1. Brand awareness
Advertising using multiple channels helps your brand reach more people in comparison to a single-channel approach. It allows your practice to get easily recognised by online viewers as you are utilising a combination of digital channels to interact with your target audience. For instance, if you are using social media platforms, emails, and other digital marketing channels to reach out to your potential patients, it helps you gain much more attention from patients and spread the word easily to others.
2. Increase patient engagement
In this digital world, patients do not stick to any one mode of communication. They are consuming more than one platform for their different needs and requirements. Therefore, promoting your practice through multiple channels aids in building trust among your prospective patients. Through this, you can inform and educate your patients in many possible ways.
Need more ways to increase patient engagement? Check out these two blogs: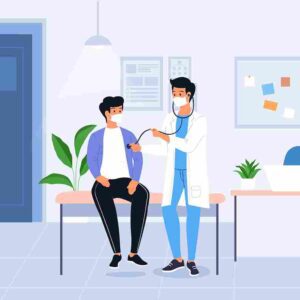 3. Better conversion rate
As you interact with your patients using more than one platform, it will tend to attract many online viewers to your practice. Millions of people will be able to come across your message through different platforms, increasing conversion rates.
If your target audience came across your profile on as many platforms as they use, it would increase the possibility of people choosing you over other healthcare providers.
Conclusion
By using a multichannel marketing approach in healthcare, you can involve, engage, and retain your patients in your practice. In this blog, we talked about how multichannel healthcare marketing works and how your practice can benefit from it.
Want to grow your medical practice by using a multichannel marketing approach? Brand Medix is here to help you.