Digital marketing for Ayurvedic clinics: 6 ways to promote your practice
Digital marketing for Ayurvedic clinic in 2023: As the world is continuously evolving, people's lifestyle keeps changing, making them prone to various diseases. For holistic living, more people are shifting towards Ayurvedic treatments as it includes natural ways of diagnosis and treatment. Ayurveda is slowly being adopted worldwide as a natural and healthy way of living.
The world is inclining towards consuming natural, herbal products which use plants seeds, berries, leaves, and flowers for medicinal purposes. With more patients leaning towards Ayurveda, there's a strong need for digital marketing in the industry. With the help of marketing, the traditional industry of Indian medicine can now reach global levels and even be visible to a wider audience.
Digital marketing for Ayurvedic clinic is way different from the marketing strategies of other businesses as it targets a larger audience, which not only includes patients but also other businesses.
Now, let us walk you through 6 effective ways you can promote your Ayurvedic practice online:
1. Website optimization
A website is a digital representation of a company. Therefore, any organisation must have its website registered with its name and logo. For better engagement with the audience, websites should be optimised to be accessible through mobile phones too, as the mass audience is consuming the internet through their phones. An aesthetic web page with information catches the viewer's attention within a shorter period and has a much higher chance of users clicking on it.
2. Search engine optimization
With the help of search engine optimization, you can have the chance of standing out in the crowd. To dominate your competitors digitally, you should have your website optimised to rank your services or products higher on various search engines like Google. A higher ranking on Google helps your website to target the right audience and reach new customers.
3. Social platforms
Today social media is the new normal world where people are living and spending most of their time scrolling. Social media platforms such as Instagram, Twitter, and Facebook are some of the ways which can be used for regularly posting informative and engaging content and videos about Ayurvedic products and services. In addition, it also helps to navigate your message or educate a large audience at one time. Through this, you can advertise and interact with your audience and cover a large section of the market.
4. Blog posts/ Articles
Content marketing is one of the most effective ways to promote your services or products to consumers. Ayurveda is related to natural products; therefore, you must communicate the value of products to the target audience to generate their interest. For that, you can share blogs through different platforms which include the information and importance of the products in their lives.
5. Email marketing
Email marketing is the fastest-growing technique used by businesses to reach new customers and also strengthen relationships with existing ones. Through email newsletters, you can connect with your potential audience and keep a track of their requirements.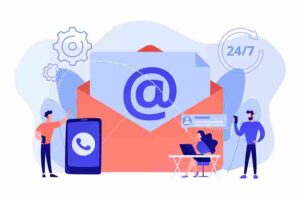 6. Local business listing
Search engines like Google allow businesses to register their practice and products on directories like Google My Business (GMB). When you list your business, your products and/or services can be discovered by locals and help to promote your brand to the people nearby who can easily become your potential consumer. Additionally, this also helps to generate better visibility among the target audience and increase the conversion rate.
Conclusion
With the increasing competition in the Ayurveda industry, you cannot stick to the traditional aspects of marketing anymore. To promote your practice to the right audience, you must adapt new-age marketing techniques. As you have seen, you can use various tools like emails, content marketing or social media platforms to attract more visitors online which can convert into your customers.
By reading this article, you are now aware of the importance of using digital marketing for Ayurvedic clinics online. We, BRAND MEDIX, can help you to market your practice or services to a wider audience and help your business to grow. Connect with us today!