SEO guide for beginners: What is local SEO and how does it work?
Do you run a business and want to make your online presence remarkable among audiences? Then, do not miss out on these benefits of local SEO that can boost your business.
Search engine optimization (SEO) is the process through which you can make increase your online visibility and generate organic traffic on your website. Website optimization is done by any business so that their website, social media, videos, or any other form of content makes an appearance in the top search results on search engines like Google, Yahoo, YouTube etc.
However, SEO benefits are not only limited to this. It also works wonders to drive potential customers to your business. With the best SEO techniques, you can rank higher on search engines, which in turn helps boost your business and improve your digital reputation.
What is local SEO?
Local SEO (Search Engine Optimization) is done to make your business ready so that it becomes searchable by your audience from nearby locations.
Let us make you understand it simply:
If you are running a textile business and have it listed on Google, then that is not sufficient to make your business searchable enough. To catch the attention of your desired audience, you must make sure your website is well-modified according to the Google algorithm so, that it can rank your site on the top-notch list of search results. So, whenever they will search for products or services related to your business, they will get to see your business on the foremost page of search engines.
Need some proven SEO tips to rank on top? Check out this blog made exclusively for doctors.
Now that you have understood how local SEO works, let us discuss how it plays a crucial role in improving a business's digital presence.
The importance and benefits of search engine optimization (SEO):
1. Target your potential audience
A website that ranks high on Google is much more likely to convert the target audience to potential consumers. The better your SEO will be, the more the possibility of your website ranking higher on search engines. When your business reflects in the top list of Google, it helps to build credibility among audiences. Eventually, driving more active users to your webpage.
2. Improve your local presence
Whenever a person needs to buy a product or use a service, the first thing they do is search for it online through Google. Often, users get all the information they need about any business with just a click and that is why your business must establish a local presence.
Showing your business in the foremost section will have a higher possibility of potential users going through your website and making a purchase.
3. Builds credibility
Better online reviews create a positive impact on web users towards you and your business. Before availing of any service, a person first checks the reviews given by other people. Thus, online reviews help users in making decisions.  So, an optimized SEO profile with positive responses from the consumer will attract new visitors and build credibility among your audience. This leads to your business growth effectively.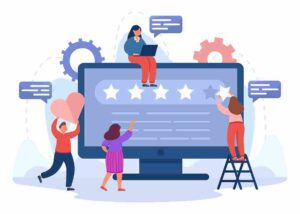 CONCLUSION
SEO acts as a basic pillar for businesses to maintain and sustain their online presence. With better optimization of the same, you can attract many new visitors to your website and build positive relationships among your existing ones.
Do you also want your business to get discovered among the local audience? BRAND MEDIX provides a proven strategy to rank your brand high on search engines. Contact us now!