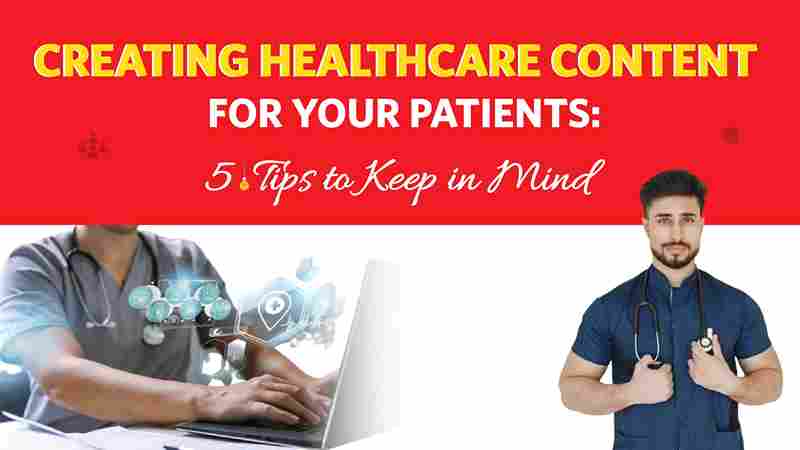 Creating Healthcare Content for Your Patients: 5 Tips to Keep in Mind
Are you trying to up your content game to attract more patients? Here are 5 healthcare content tips to keep in mind.
The healthcare industry is continuously evolving with the innovation of new technologies. These technological trends have changed aspects of almost every industry from the way they operated earlier. Now, in this digital world, it is necessary to have a strong online presence to remain in the eyes of your viewers. The more you put yourself on online platforms, the greater the chance that people will be much more aware of you and your practice. Therefore, the healthcare industry is slowly adopting digital marketing methods to reach and attract its target audiences.
Healthcare content marketing is the most effective way to reach out to your patients through various platforms and provide them with relevant information for their medical questions. In this competitive world, a healthcare organisation can differentiate itself from its competitors by providing quality and informative content to its viewers.
What is Healthcare Content?
People mostly search for their health information online through various platforms, which in turn provide them with relative and informative content in the form of blogs, articles, social media posts, and videos.
In healthcare, content marketing has the potential to attract, retain, and convert potential leads. Through good content, healthcare providers can build better trust and relationships with their patients, which also helps increase patient volume. It also enhances your website's SEO, which helps rank your web profile among the top search results on search engines such as Google.
(Also Read: Website for healthcare: Importance and benefits (brandmedix.com))
Here Are Five Healthcare Content Tips to Consider:
01. Write what your readers want to read about
When creating content for your patients, the first thing you should acknowledge is your viewer's interests and health concerns. You can do this by researching what your audience wants to read. What is their health concern? Which is the most searched topic online?
Knowing what your audience is looking for will help you create content that addresses their concerns. These types of content are more likely to gain better visibility, as most people browse it online on various search engines.
02. Avoid medical jargon
For creating content for your general audience, it is better to create and publish online content in simple and easy language, as your readers are not from the medical field. Therefore, while writing blogs and articles, you need to explain medical treatments and terms in layman's language so that your viewers will find them helpful.
03. Use relevant images and videos
Support your content with relevant photos and videos so that, viewers can easily relate to it. This also helps them better understand the thing that you're talking about. With the help of visuals, you can make your content more appealing and engage potential patients.
04. Create original content
In the healthcare industry, there is already a lot of information available online. Duplicating others' content is not a good option in the name of publishing content to your name. As a healthcare provider, people want to know your viewpoint and guidance; therefore, try to share original content with your audience. This also affects your search engine rankings so make sure to focus on originality when writing for the healthcare industry.
05. Use relevant keywords
By introducing relevant keywords to your content, you can target potential patients more efficiently. For example, if you are a dentist and writing content about healthy oral life. Use relevant keywords such as "the best dentist," "dentist near me" and more like that. This will make your website more searchable and will target specific audiences looking for your treatment.
CONCLUSION
Content marketing is ruling almost every industry. In the medical sector, you will never have a shortage of content. However, it is very important to know about your viewers' needs and cater your content according to that. By following these tips, you can create engaging content, which helps build your distinctive online presence among viewers.