Doctors on social media: 7 Common mistakes you should avoid making in 2023
Doctors on social media 101: Social media can work wonders, but some mistakes can hold you back. Finding success on social media as a doctor isn't always easy. Doctors often struggle with these things.
In just a short period, social media has become the centre of marketing. It has essentially become unavoidable. In the technology-driven world that we live in today, businesses across all verticals are constantly trying new ways to market their services in the online world. However, it is only in the last couple of years that the healthcare industry is understanding the importance of digital identity and presence on social media. Most medical professionals are still keeping a safe distance from it.
Social media is hardly new to anyone at this point and yet for many doctors, it is still something they are not fully versed with. Sure, they know what social media is but when it comes to leveraging that power to promote themselves effectively, they are lost. Those who are well aware of the massive potential of social media choose to stay out of it thinking it may damage their reputation or worse jeopardise their career. Regardless of your experience or irrational fears, the importance of social media marketing for doctors is greater than ever today.
When used correctly, social media has proven to be a powerful tool for doctors. However, with the good often comes the bad. And though Facebook, Instagram, and Twitter are great platforms for doctors to promote their practice, there are a few things that one should avoid when utilizing them.
Here are some common mistakes doctors on social media should completely avoid. Take a look:
1. Over-promoting
Often doctors view social media as an advertising platform but your audience does not share that same perception. While it is perfectly acceptable to endorse your practice, the focus should be engaging with your patients and providing them with interesting as well as beneficial information that can create a dialogue. If used in the right way, social media can help you form a relationship of trust and credibility with your current as well as potential patients.
2. Failing to respond to feedback
The biggest purpose of social media marketing is so that you engage with people and try to build a relationship with them. If you shy away from responding, then you are practically driving them away. Avoid making this mistake and always respond to your followers in a timely way. If you come across as disinterested, it might affect your reputation and online image.
Want to build a flawless online reputation? Check out this blog where we let you on some effective tips.
3. Having no strategy in place
Entering the world of social media with no strategy is failing before even getting started. When you know why you are using social media and how to use it, you need to come up with a plan and follow through with it. Blindly just posting content and hoping for it to deliver you results is like banging your head against a brick wall. Before you start posting on social media, take some time out to procure the kind of content that you want to share, and how frequently you'd like to post and then follow through with it as necessary.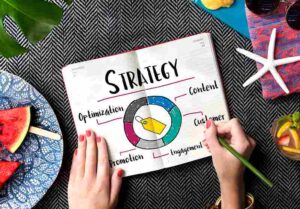 4. Lack of authenticity
Most of the time, doctors tend to be too cautious on social media. So much so that they deny themselves the freedom to create content and share medical information in a way that is appealing and relevant to them. However, when it comes to sharing medical content on social media, you do not have nothing to worry about. If your content is medically accurate and does not push any ethical boundaries, you shouldn't be concerned.
To level up your social media game, make sure you are staying true to your content creation style and being as authentic as possible. If you prefer making reels or educating people using creative ways, you do you! If you would rather sit down in your white coat and talk about your treatment, then do exactly that. That is the great thing about social media, there's something for everyone.
5. Quality over quantity
Social media platforms are filled with useless and irrelevant posts and part of the problem is that people believe that it's all about the numbers when it is not. More, in no way, better on social media. Instead, focus on creating high-quality content that can keep your audience engaged. Posting loads of content in hope that something might catch on can ultimately drive people away.
6. Blurring the line between personal and professional
Always remember that you are utilising Facebook, Twitter and Instagram for professional purposes and not personal ones. Therefore, try to avoid any potential legal situations and distinguish what should be on a public forum and what shouldn't. Not maintaining the boundary between professional and personal can lead to negative consequences. To avoid that, consider making two accounts–one for your practice and one for your personal life.
7. Thinking you can do everything yourself
Not turning to professionals for social media marketing is one of the biggest mistakes you, as a doctor, can make. If you think that you can handle your social media handles all alone, you are highly mistaken. To drive results from these platforms, you need to have the right skills and an incredible team backing you up.
Ideally, you should hire a specialised healthcare marketing agency like ours so that you don't have to worry about anything else. Often doctors think that they will be able to handle everything on their own. However, you neither have the right resources nor time or skill to do it yourself. Only a professional can help lay the groundwork and get your social media game started!
Conclusion
There are a variety of opportunities at a doctor's disposal through social media platforms that otherwise would not be attainable. The possibilities of healthcare marketing on social media are endless and the results you get are incredible- as long as you avoid a few common mistakes.
Still not sure about social media marketing? Consider the benefits you and your practice can obtain from professional social media management. We assure you that it will be worth it! Connect with us and we'll help you get started!