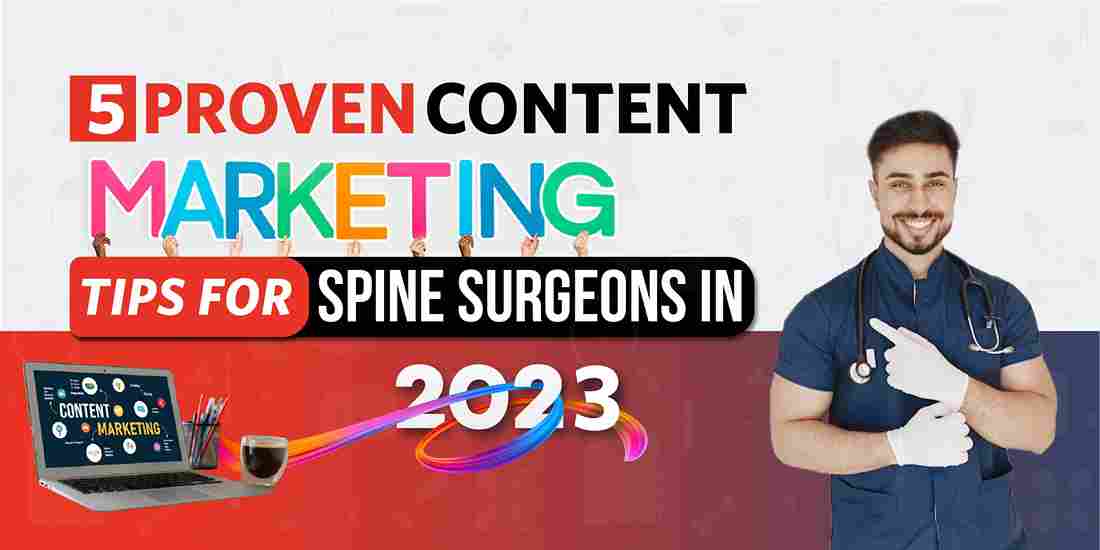 5 Proven Content Marketing Tips for Spine Surgeons in 2023
With the rise of healthcare brands and competition in the healthcare industry, it is essential to have an online presence for doctors, hospitals, and clinics, so that people are aware of their existence. Content marketing for spine surgeons can help you reach your prospects.
Healthcare content marketing is a crucial part of digital marketing and is often used by healthcare professionals and organisations to promote their practice and build a good reputation.
Through healthcare content marketing, you can educate and provide information to your potential patients and attract new ones. Now, with the advancement of technology, patients are much more aware of the importance of health. Therefore, they go online to look for any information related to healthcare. Thus, content marketing is a powerful tool to attract new patients to your practice and also to engage existing ones.
Healthcare content marketing can be done in many ways, including through articles, blog posts, infographics, video content, and guest posts.
In today's fast-paced world, people have several options for their health needs. Therefore, to promote your spine surgery practice, you not only have to build your online presence. But you also have to differentiate yourself from other spine surgeons and stand ahead of them to be chosen by your potential patients.
What is the need for content marketing in healthcare?
Healthcare content marketing provides the most effective ways to attract and engage patients. Here are some of the benefits of content marketing for your spine surgery practice.
It helps attract local and international search traffic.
Differentiates your specializations from the competitors
Educates and informs the audience about the treatments and procedures involved in the surgery.
Boosts conversions
Helps you rank higher in search engine results
5 Proven Content Marketing Tips for Spine Surgeons
Let's have a look at some of the proven content marketing tips that can help you market your spine surgery practice among potential patients.
Write according to the patient's level of understanding
When writing for your local audience, you should keep in mind to avoid the medical terms and jargon used in the healthcare industry. Whenever you mention procedures and treatments related to the spine, try to be patient in simply explaining those terms.
Video content is in demand
Video content is the most effective way to reach your target audience. When people see you talking to them through a video, the content becomes more effective and appealing to the patients. Through this, you can also explain to your patients the procedures involved in the surgery.
Keep content short and to the point
Posting lengthy and thorough medical blogs and articles will not effectively engage the audience with your content. People now have a paucity of time, which is why they need information more quickly. Therefore, try to keep your content simple and brief to catch the reader's attention.
Use targeted keywords for your content
A keyword is a word or phrase that users type into search engines when looking for information. Try to add relevant and trending keywords to your content, so that online viewers can notice it. You can use "best spine surgeon near me" or "best spine surgeon" to make sure you are ranking high on search engines and reaching the right people.
Showcase your expertise
In the competitive world of healthcare, you need to distinguish yourself from other spine specialists. For that, you can write or talk about your training, specializations, and specific approaches to treatment, which can help patients rely on you for their healthcare needs. This personalised approach can also guide patients in their decision-making process.
CONCLUSION
In this rapidly changing digital era, content remains the KING. And for spine surgeons, leveraging content marketing in the right way can become a complete game-changer. Through effective content, you can attract, engage, and retain patients. There are a lot of ways such as blogs, infographics, and guest blogging, that you can use to connect with your patients online.
By embracing the right content marketing strategies and tips, you will undoubtedly position yourself for success and also make a meaningful impact on the lives of your patients.